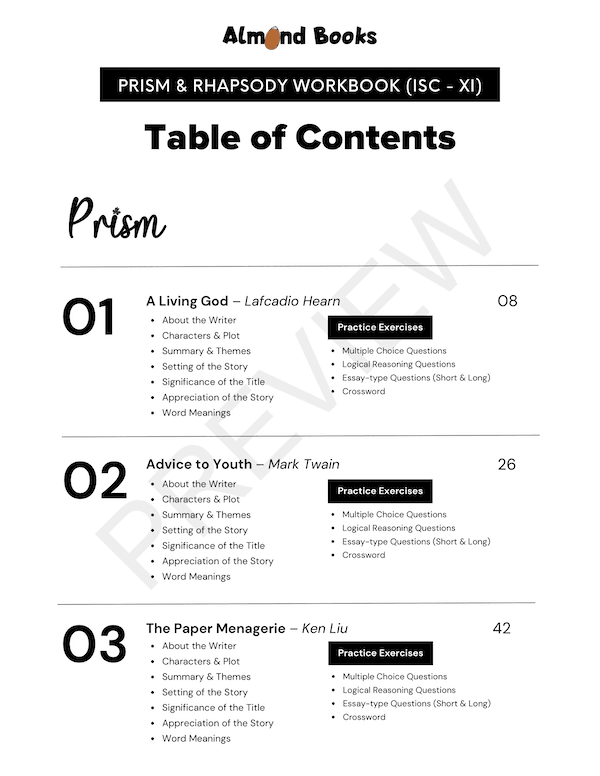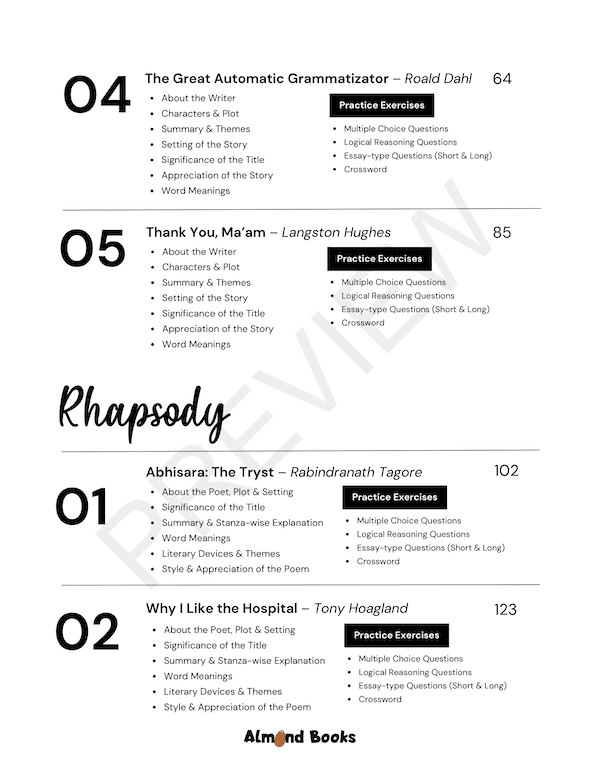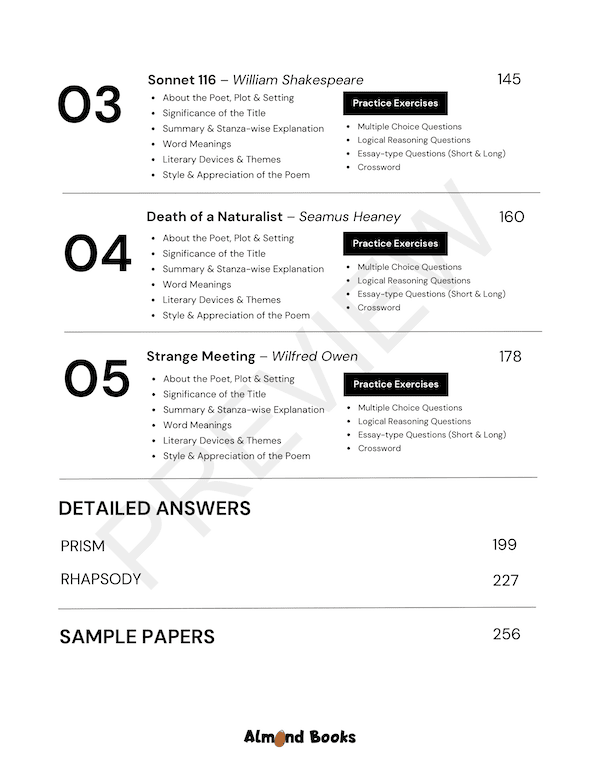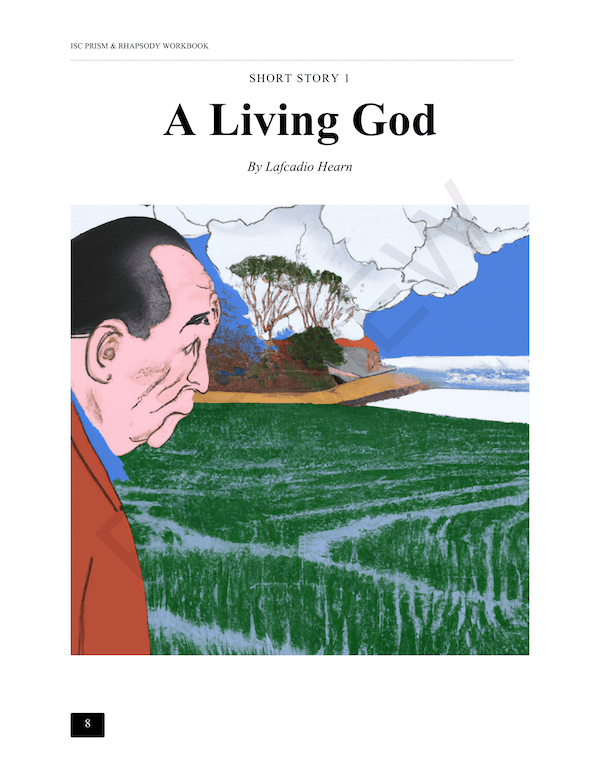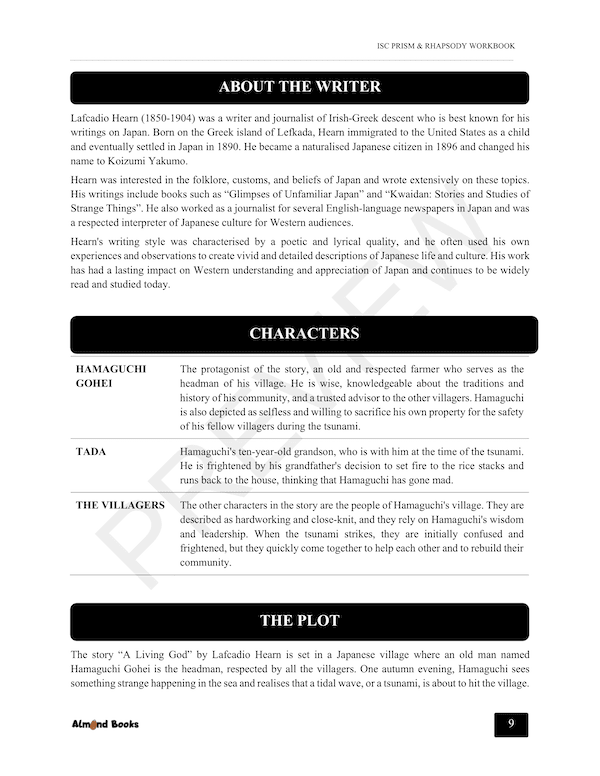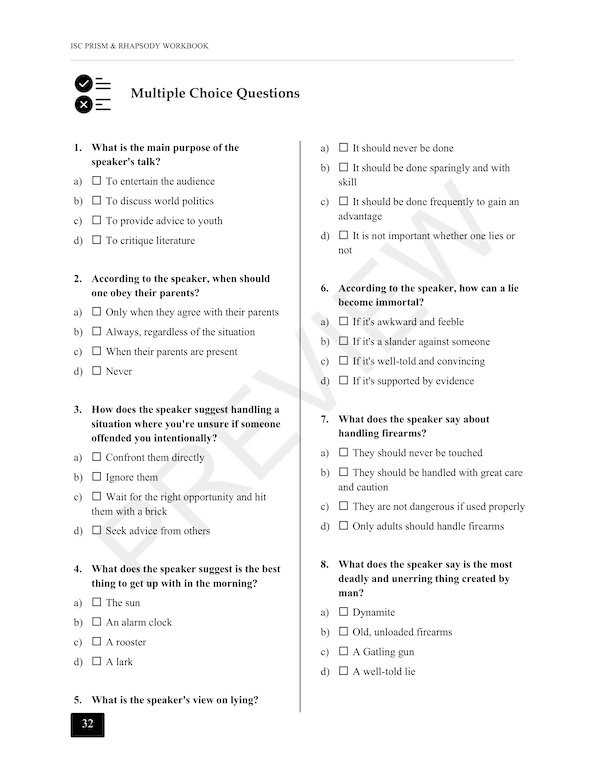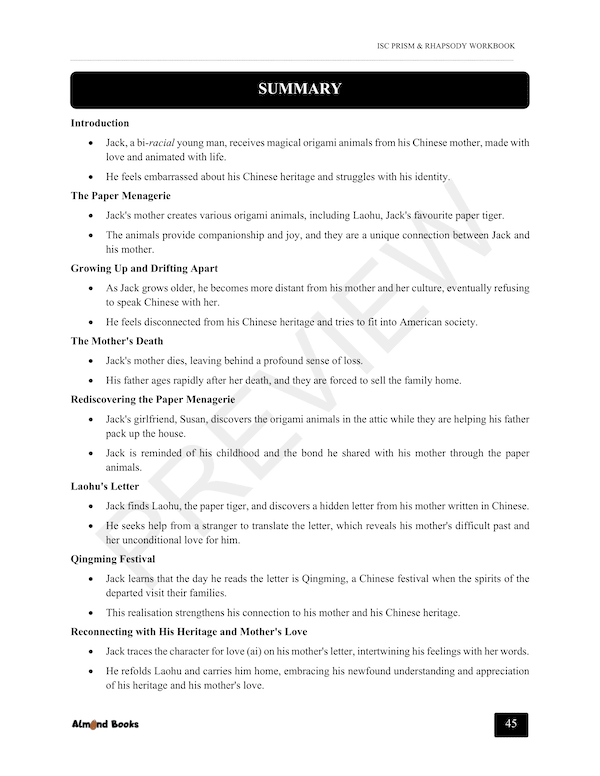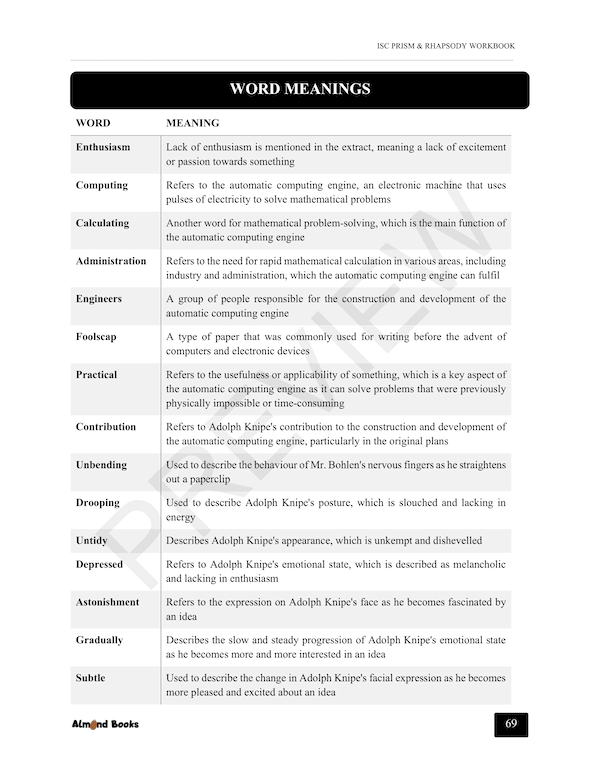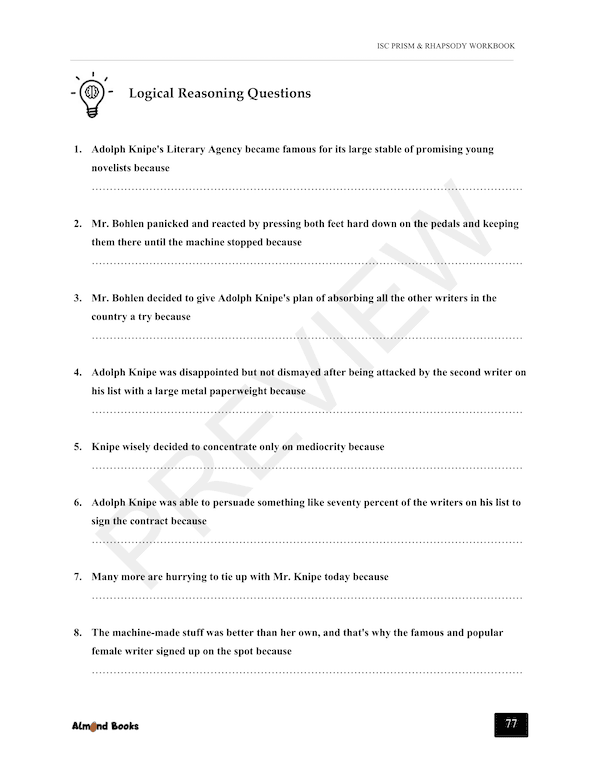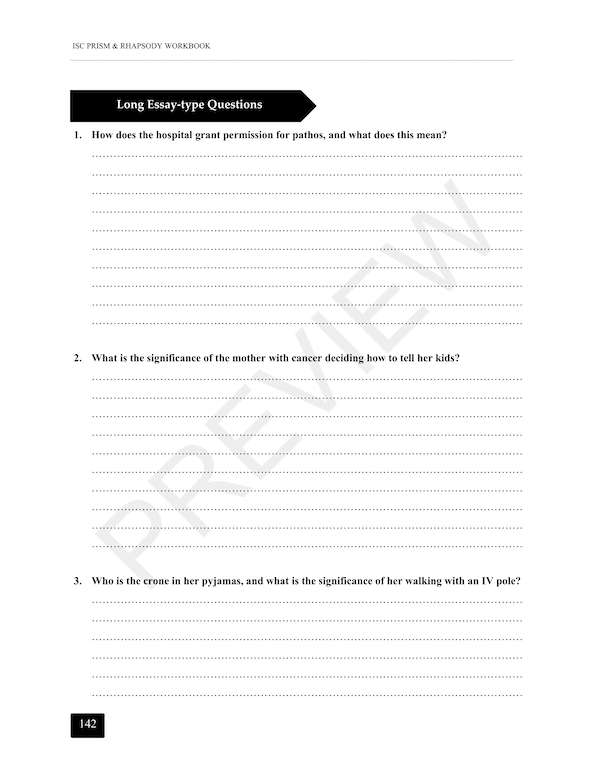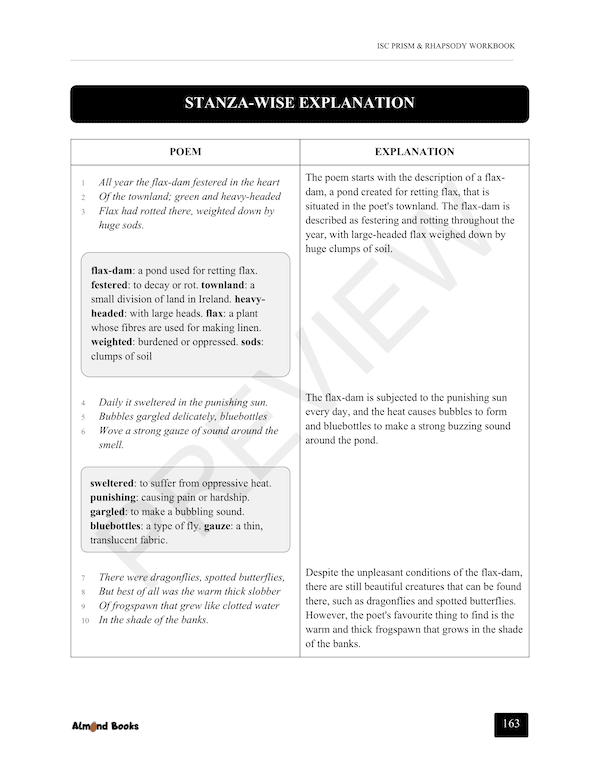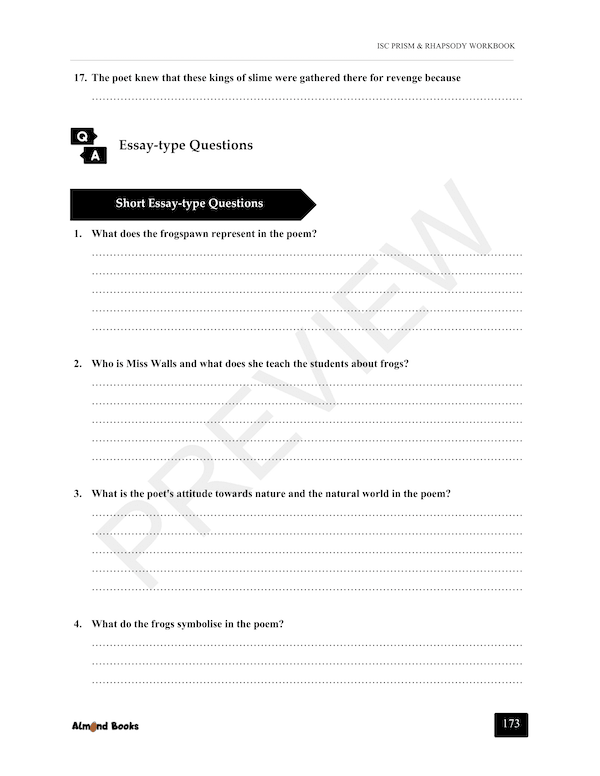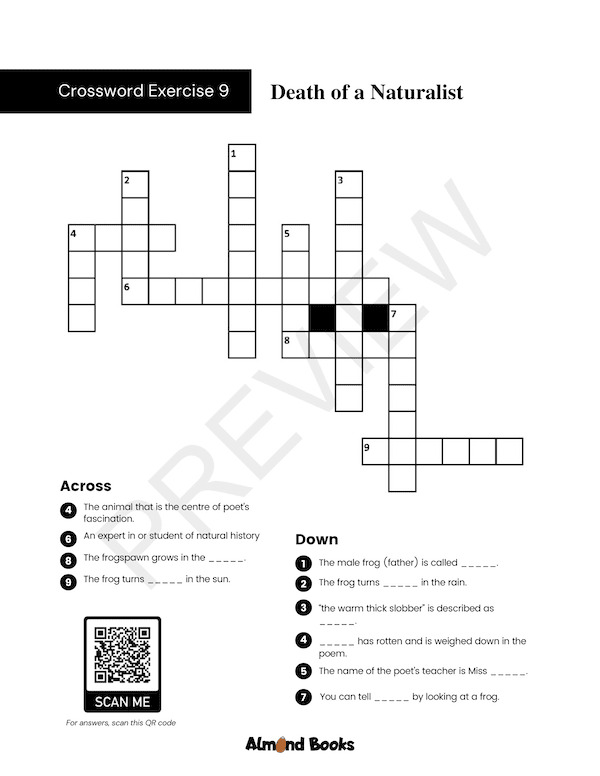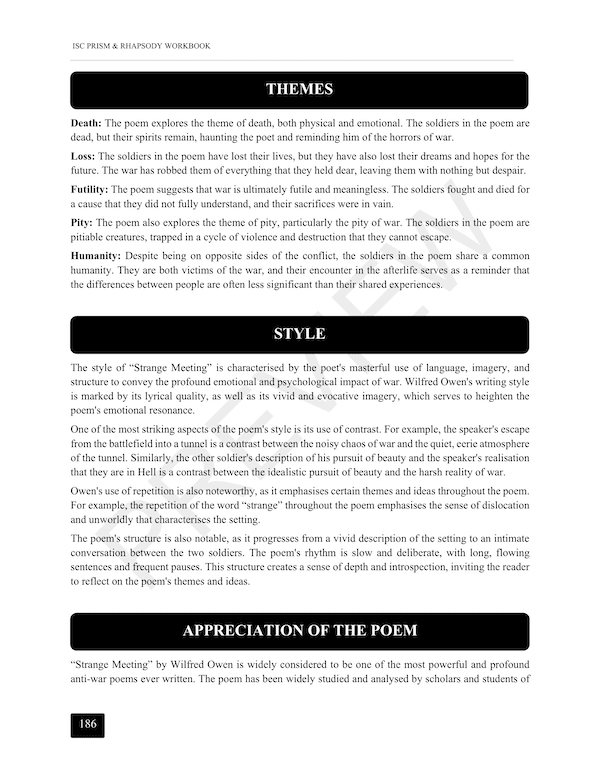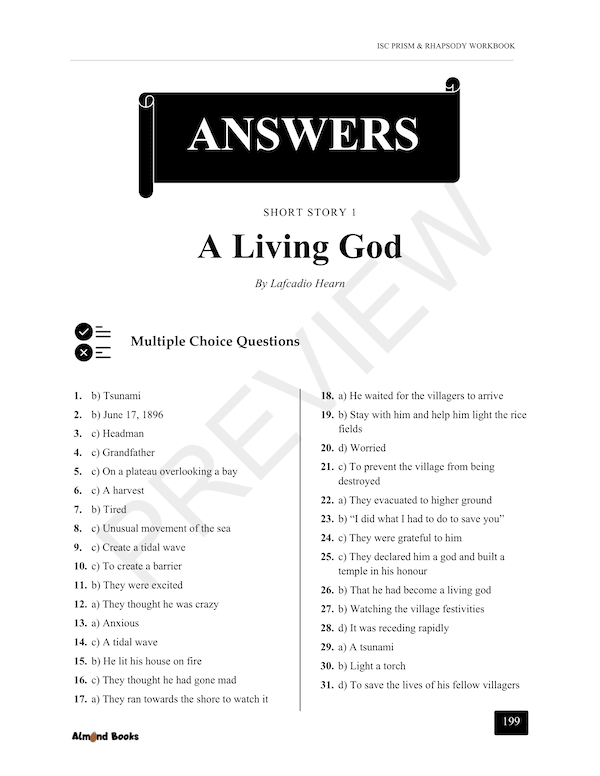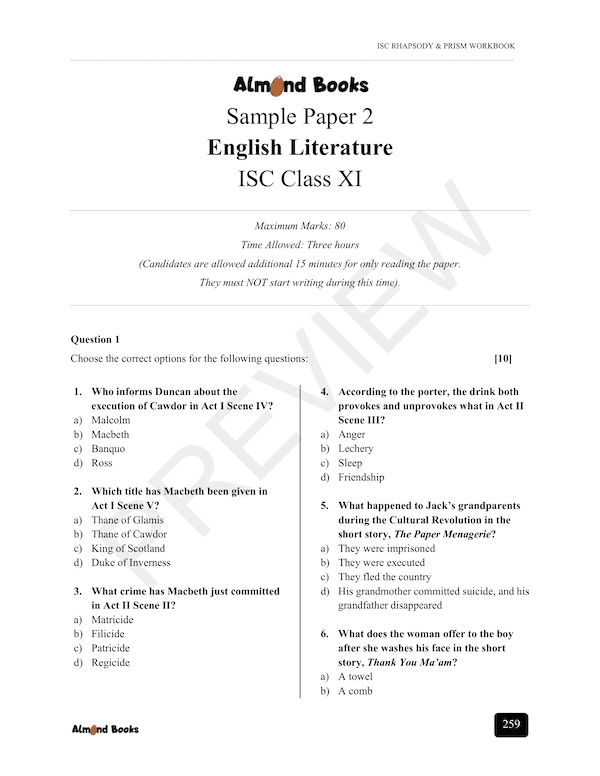 Almond Books ISC Class 11 Prism & Rhapsody: A Workbook for Poems & Short Stories with Answers
Sale price
Rs. 580
Regular price
82 students and teachers are ordering this book right now
🎁 Get Rs. 80 OFF with discount code ALMONDS
🚚 Free delivery across India on orders above Rs. 500
💰 Cash on delivery available
Almond Books ISC Class 11 Prism & Rhapsody: A Workbook for Poems & Short Stories with Answers
Almond Books ISC Class 11 Prism & Rhapsody: A Workbook for Poems & Short Stories with Answers
Get ready to elevate your English Literature preparation to new heights with the Almond Books PRISM & RHAPSODY WORKBOOK! Specifically designed for ISC Class 11 students, this FULLY SOLVED workbook is the ultimate companion to the Evergreen Publications' English Literature textbooks.
The workbook's unique features, including paraphrases, character descriptions, literary devices, and word meanings, are crafted to help you gain a deeper understanding of the context.
But that's not all this workbook also offers a variety of practice exercises, from multiple-choice to logical reasoning questions and short & long essay type questions, to help you assess your knowledge and sharpen your answer writing skills. A playful crossword exercise accompanies each and every poem and story designed specifically to engage and stimulate students in classroom.
CONTENTS
Section 1: Prism (Short Stories 1 to 5)
About the Writer
Characters
Plot, Summary, Themes
Setting, Title, Appreciation
Word Meanings
Practice Exercises (Fully Solved)
Stories included
A Living God – Lafcadio Hearn
Advice to Youth – Mark Twain
The Paper Menagerie – Ken Liu
The Great Automatic Grammatizator – Roald Dahl
Thank You, Ma'am – Langston Hughes
Section 2: Rhapsody (Poems 1 to 5)
About the Poet
Plot, Setting, Title
Summary, Themes, Style
Line-by-line Explanation
Literary Devices & Word Meanings
Practice Exercises (Fully Solved)


Poems included
Abhisara: The Tryst – Rabindranath Tagore
Why I Like the Hospital – Tony Hoagland
Sonnet 116 – William Shakespeare
Death of a Naturalist – Seamus Heaney
Strange Meeting – Wilfred Owen
Practice Exercises
Multiple Choice Questions (MCQs)
Logical Reasoning
Short-Essay Type
Long-Essay Type
Crosswords
Sample Papers
With its interactive and engaging approach, the Almond Books workbook is an essential resource for students aiming to excel in ISC Class 11 English Literature.
Note: Please note that this edition only includes the Class 11 portion. A separate edition will be published for the Class 12 portion.
| | |
| --- | --- |
| SUBJECT | English Literature |
| TARGET EXAM | ISC Class 11 |
| EDITION | 2024 |
| AUTHOR | Almond Books |
| PAGES | 261 |
| PUBLISH DATE | 2023-05-05 |
| PUBLISHER | Almond Books |
| TYPE OF MATERIAL | Printed Book/Paperback |
| RETURN PERIOD | 7 days |
School Name:
Girls high school & College, Prayagraj
Recommend to others:
Definitely
Perfect Book
The book is perfect for ICSE
School Name:
Sri Aurobindo Institute of Education
Recommend to others:
Definitely
Love the quality, the detailing and pattern of brilliantly, written answer's
School Name:
Lilavatibai Podar High School, Mumbai
Recommend to others:
Definitely
School Name:
Saint Thomas Inter College Khalilabad
Recommend to others:
Definitely
School Name:
St. George's College
Recommend to others:
Definitely
Very Good Book
Everything about the book is good
School Name:
North Point School
Recommend to others:
Definitely
Impressive Book
Wonderful and impressive book, the summary and the question and answers are really helpful.
School Name:
Mahavir Institute Of Education And Research
Recommend to others:
Definitely