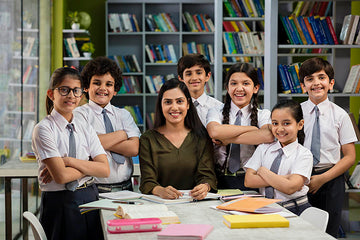 Step into a world of captivating learning with Almond Books. Our books are designed to elevate the classroom experience and bring a fresh perspective to education. We believe that students deserve the best and we've created our books with this belief in mind.

As a teacher, you have the power to shape the future of your students. If you're looking to introduce them to a new level of learning, look no further! Almond Books is offering complimentary specimen copies of our textbooks and guides, just for you. Immerse yourself in our books and discover the magic of interactive education.
Reach out to us today and request your complimentary copy – it's time to take your students on a journey they'll never forget!
Please note: We are delighted to see the overwhelming response to our recently launched ICSE & ISC titles, and we appreciate your interest in our publications. Due to the high volume of requests, we are currently experiencing a significant delay in processing complimentary specimen copies.

We understand that time is of the essence, and therefore, we recommend placing an order directly on our website if you require the book urgently. Use discount code "SCHOOLSPECIMEN" for 50% OFF on MRP.

Rest assured, if the book is ultimately listed in your school's book list, we will promptly reimburse any amount paid for requesting the sample copies. We value your patronage and thank you for choosing our publications.
Best textbook for Julius Caesar
The newly released Julius Caesar textbook by Almond Books has caused a sensation among English teachers. Our school had initially decided on Evergreen, but after reviewing the specimen copy from Almond Books, we immediately changed our decision. The choice was easy because the paraphrases in this book are much more straightforward, easier to comprehend, and contain a wealth of additional helpful resources that Evergreen lacked.
Exactly how Macbeth must be taught
I am thrilled with the thoughtful approach taken by the writer of this Macbeth book. They took into consideration the challenges faced by teachers in keeping the play engaging in the face of various distractions in ISC. Our school has already finalised this book, and I am excited to see how much students will enjoy it in the upcoming academic year.
Perfect for classroom revisions
As a school teacher, we rarely endorse study guides, but this one is an exception. The Almond Biology book covers everything thoroughly, including detailed notes, review of diagrams and MCQs, and objective questions. It's a fantastic resource.
Blessing for students
The difficulty of students to write quality essays, letters, etc. is not surprising given the limited resources for teaching. However, Almond Books' Creative Skills book has revolutionized the situation. It covers everything that students need to know about creative writing as per the ICSE curriculum, including solved topics. I was lucky enough to receive a complimentary copy and I highly recommend it to all my students.
The right way to study Shakespeare play
The Merchant of Venice guide by Almond Books stands out as unique and far superior to other guides available in the market. My students have made remarkable progress in comprehending the play and writing more effective answers. This book covers everything, and I am grateful to Almond Books for publishing it.
New Releases for ICSE/ISC